10 Reasons Why Office Meetings Are Turning Toxic and How To Fix Them
80% of the time of 80% of the people in meetings is wasted.

The Economist
If you have attended any office meeting during the Covid era, you will understand what I mean. Meetings have become a new form of corporate torture.

The meeting is the single most reason why productivity in any organisation nose dives.
In India, top and middle management spend anywhere between 6-10 hours per week on useless meetings.
Office meetings are turning toxic with staggering loss in productivity. Here is why.
All meetings are usually about words and abstract concepts, not real things.
They usually convey an abysmally small amount of information per minute.
They drift off-subject easier than a political manifesto. It all depends on the mood of the top boss.
A good meeting requires thorough preparation and most of the participants come with absolutely no preparation.
Most meetings have a vague agenda and nobody is sure of the goal.
They often include at least one moron who always gets his turn to waste everyone's time with nonsense.
Unfortunately, God must like morons because he made so many of them and morons love meetings.
Meetings procreate. One meeting leads to another meeting leads to another. It is also unfortunate that meetings are scheduled like TV shows.
There are no short meetings. I have not come across a meeting that lasts less than 30 minutes.
The true cost of meetings is staggering Let's say you're going to schedule a meeting that lasts one hour, and you invite ten people to attend. That's a ten-hour meeting, not a one-hour meeting. You're trading ten hours of productivity for one hour of meeting time.
Then there are ego issues. If you are not called for a meeting, there is a sense of insecurity. Everybody wants to be in every meeting.
Is it ever OK to trade ten or fifteen hours of productivity for one hour of the meeting? maybe.
But there is always a big price to pay on a pure cost basis. Frequent meetings become liabilities, not assets. Think about the time you're losing and ask yourself if it's worth it.
I also realise that no organisation can function without these meetings. If you decide you absolutely must get together, try to make your meetings productive.
They can also be vital for sharing information, solving problems and making decisions. All of these should result in clear next steps for moving work forward.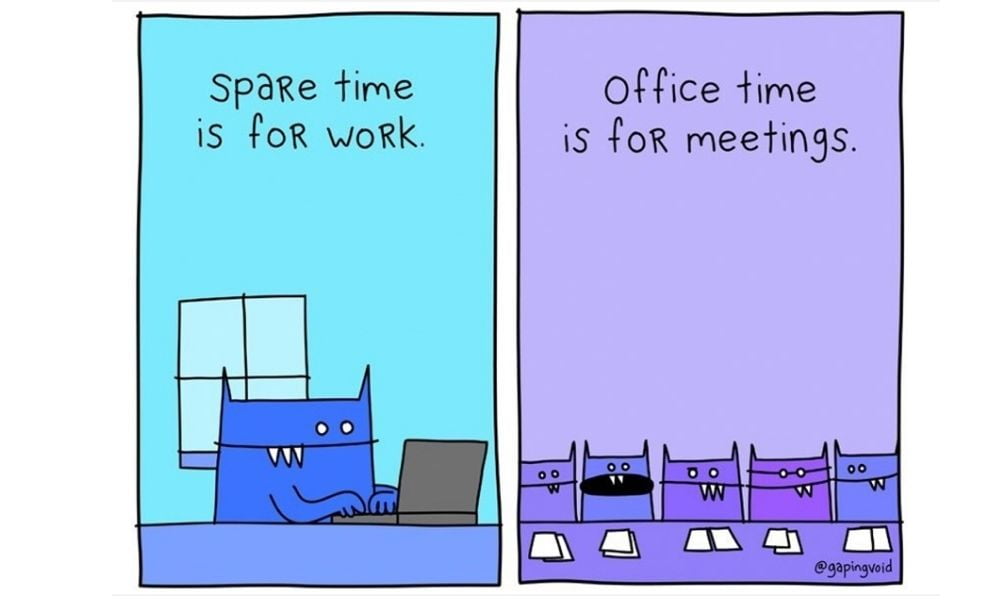 An evidence-based solution
Based on 200 research-based articles on the subject, here are some simple rules to conduct productive meetings.
Before meetings
Call meetings only when necessary.
Set clear goals and desired outcomes.
Prepare agendas that are circulated in advance (and let people review them).
Avoid long meetings. Any meeting which is longer than half an hour can become toxic.
Keep meetings small by only inviting people with expertise and knowledge. You are not supposed to fill seats in the conference area. If the meeting requires only two people, let it be so.
Make sure meetings are relevant to everyone invited.
Use technology to meet meeting objectives (i.e. video conferences).
During meetings
Make sure everyone arrives on time.
Start and end on time. You need to be ruthless on this
Actively encourage everyone to participate.
Ensure that one or two participants do not dominate the meetings.
Most of the time, the top boss calls for the meeting and speaks most of the time himself.
These meetings turn into a spectator sport.
The person who calls for the meeting needs to ensure that there is no distraction and must  Intervene when the communication pattern becomes directionless.
After meetings
Send out minutes of the meeting immediately after the meeting with direct action points.
Critically examine routine meetings to determine their necessity and value to the organisation.
Meetings can be useful if practised appropriately. Scientists showed that, if conducted appropriately, meetings generate creativity, debate, discussion and new ideas.