Dump New Year's Resolutions – Do These 3 Things Instead
I don't make New Year's resolutions anymore. Finally, I have realised that they don't work.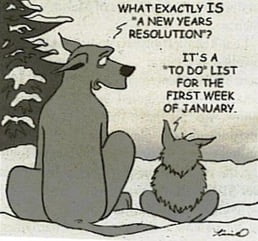 Every year, you feel terrible from January 10th onwards. This is the time when resolution carnage starts taking place.
Last night party, you ate like a pig
You haven't got over the hangover yet
You have not visited the gym after two days
You feel like a complete idiot for paying 10 k as an advance to the gym
You have stopped looking at the time management rules, which you had stuck on your work table
And you have yelled at your wife, kids and driver during the last week. Your anger management resolutions didn't work
So take my advice. Dump all New Year resolutions. I have more than 15 years of experience in making and breaking resolutions.
Just take these 3 simple steps and you will be singing in the rain.
1. Take a quick review of your past year
Take a notepad and write all the positives and negatives which happened to you during the last year. If you can't remember week by week, do it month by month. Write down all the people and activities, and commitments that triggered peak positive or negative emotions. Put them in their respective positive or negative column.
Once you have done this, take leaders from both the columns (20 % which generated maximum peak emotions).  Now put more of these leaders of the positive column in your next year calendar. Similarly, reduce the negative leaders from your calendar as much as possible.
For example, if some activity like going on short vacations has given you immense pleasure, schedule more such vacations this year. Or some friend has given you loads of stress and negativity-just dump him. Or just reduce any common activity with him.
Trust me, this is going to improve your life by 30 %.
2. Wait till Jan 10
I wait. For ten days I  wait.
The first ten days of the New Year are filled with New Year's resolution carnage.
People give up fast… or they didn't even remember their resolutions in the wake of their New Year's Day hangovers.
By avoiding the most dangerous goal-setting period of the year, I already know I have a head start.
Then on January 10th, I Jump.
I've been setting three resolutions on January 10th each year for the past five years.
The resolutions have been specific, quantifiable, and very personal. They've reflected the growth I've wanted for myself – growth that could help me be the person I've hoped to be.
3. Create a plan to achieve 3 goals
Do not make Elephant Resolutions (too big to achieve). Make baby resolutions (not more than 3).
Then create a plan for achieving these resolutions. The plan is never executable in a day. It always takes most of the year… and always includes baby steps. The research shows that big goals require big shifts in behaviour. And those shifts in behaviour are created over time.
Elephant steps do me no good. It's always about baby steps.
Wishing you a very happy New Year- with lots of love, luck and laughter.